60th Peace Corps Anniversary Pint Glass

The special edition glasses have arrived; 100 glasses on Oahu and 200 glasses on the Big Island.
Cost:  $10 per glass
Day and time to pick up glasses on Oahu and the Big island will be announced.
Profits will support the Aloha Grants and Care Package fund.
Contact rpcvhi.treasurer@gmail.com to order!
****************************
Returned Peace Corps Volunteers of Hawai'i T-Shirts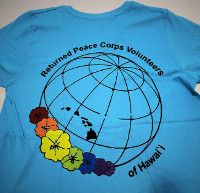 Clearance Sale: $5 each shirt
+ shipping/handling if mailed
V-neck shirt = 3 small/petite
Crew shirt = 3 med and 4 large
Info / Availability: Email rpcvhi.treasurer@gmail.com