"To help promote a better understanding of other peoples on the part of Americans." - Third Goal of the Peace Corps
The Returned Peace Corps Volunteers of Hawai'i participates in Community Events to help fulfill the Third Goal of the Peace Corps
and also to promote the great work of the Peace Corps.
We have opportunities to share our Peace Corps Experiences through the Peace Corps Prep Program.
Since 2018, the Returned Peace Corps Volunteers of Hawaii (RPCVHI) have supported the continued presence of the Peace Corps Prep Program at the Matsunaga Institute for Peace at UH Manoa.
Peace Corps Prep programs are created by colleges and universities in collaboration with the Peace Corps, and are available to students only at participating partner schools. To learn more about the program at the Matsunaga Institute for Peace, UH-Manoa, click on this link.
RPCVHI members have been instrumental in recruiting new undergraduate applicants by speaking in international development classes, sharing their international fieldwork with students eager to understand more about potential Peace Corps service in the six areas for volunteer openings: Education, Health, Environment, Agriculture, Youth in Development, and Community Economic Development.
Jose Barzola,  the current Peace Corps Prep Coordinator shares two ways that RPCVHI members can participate and show support for the Peace Corps Prep Program.
1. Be a resource dot on the Peace Corps Prep Program Map
The program is developing a resource map for prospective undergraduate students interested in the Peace Corps Prep Program to connect directly with Return Peace Corps Volunteers (RPCVs) in our community.  
Complete a survey, and then you will be a dot on the resource map. Personal information is kept private.
Share the survey and resource map your RPCV friends. Their personal name and email will be kept private, too.  Click on Resource Map to see what the map looks like. 
We have over 500 RPCVs in Hawaii.  Let's get over 500 dots on the resource map.
2. TALK STORY with interested students via zoom.  Talk about your advocacy work; share your experiences. 
The photo to the left shows several of the YOU Tube videos of RPCVs who have shared their stories with Peace Corps Prep Program Students.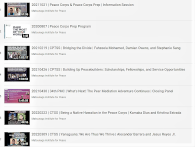 Now that PCVs are returning to the field, this is an excellent opportunity to support future Peace Corps Volunteers and support the Peace Corps Prep Program at UH-Manoa.  
Please feel free to contact Jose directly.  
José Barzola (he/him/his)
Educational Specialist || Lecturer || Peace Corps Prep Coordinator
P: 808.956.6433
Spark M. Matsunaga Institute for Peace and Conflict Resolution