Phillip Buck Olsen was born in Duluth, Minnesota to Norwegian immigrant parents. He spent much of his youth in the Adirondacks in upstate New York. Phil was a proud graduate of Wesleyan University, majoring in English and a 1958 graduate of UCLA, earning a master's degree in Journalism.
He started working as a youth, then was commissioned as an officer pilot in US Air Force. He later worked in public relations for Western Airlines. In 1961 he responded to President Kennedy's historic challenge to, "Ask not what your country can do for you – ask what you can do for your country," by joining the Peace Corps. He was a member of Group IV Philippines. Phil spent four years in the Philippines, where he taught school, and then became a Volunteer Leader for 240 Peace Corps volunteers. In 1965, he worked at Peace Corps Washington as desk officer for the Near East, North Africa, Asia and Pacific regions. In 1967 he became Director of Peace Corps Training in Hawaii, where 3,000+ Peace Corps volunteers were trained to serve in Asia and in the Pacific during his five years as director. After leaving the training center, Phil was appointed Associate Dean of the College of Arts and Sciences at the University of Hawaii Manoa.
He was a professional pilot, an FAA flight instructor, commander in the Civil Air Patrol Aloha State Search & Rescue Squadron from 1972-79, while still working at the University of Hawaii. He was a longtime active member of the Church of the Crossroads in Honolulu. Over the years, he was also an active member of the Aircraft Writers and Pilots Association, the Elks Club, the Foreign Affairs Association, the Honolulu Symphony Guild, the Quiet Birdmen, the Returned Peace Corps Volunteers of Hawaii, and served as Board Member and Vice President of the Honolulu Marathon.

---
Exhibit dates at UH are Sept. 15 to Oct. 14, 2021
The Library Exhibit is open ONLY to UH and East-West Center affiliated faculty, staff, students, and researchers (by appointment).
For UH-M access, please click here.
For those who cannot visit the exhibit at the Hamilton Library, the exhibit items can be viewed in a slideshow on the RPCVHI website. Click on this link.
---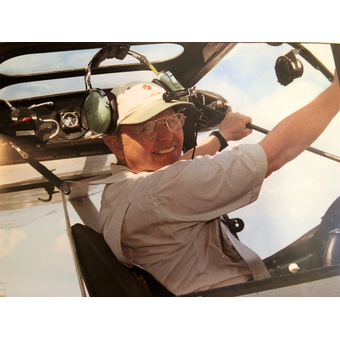 Hamilton Library, 2550 McCarthy Mall, Honolulu, HI 96822